15 Juli 2021
Reading time 4 minutes
Kalmar Modernisation Services – the cost-effective, eco-efficient way to upgrade your equipment fleet
Kalmar Modernisation Services is a comprehensive new offering that covers our entire range of cranes, shuttle carriers and straddle carriers. Encompassing inspections, repairs and refurbishments, modernisation, automation and digitalisation, the offering provides tailored solutions designed to optimise the performance of your equipment fleet over its lifecycle.
"In very simple terms, the goal with this new offering is to be the preferred partner for our customers for any Kalmar fleet-related needs," explains Arttu Rantanen, Vice President, Kalmar Modernisation Services. "Regardless of whether the customer needs smaller repairs or fine tuning, or is interested in more comprehensive upgrades and modernisation, we can provide a tailored solution that meets their unique needs."
Kalmar Modernisation Services comprises four categories that cover the entire customer journey: inspections, repairs and refurbishments, modernisation, and automation and digitalisation.
"By starting with inspections we can gain a common understanding with the customer about where things stand and what needs to be done, and make recommendations based on real equipment data. After that, to keep things running smoothly in the short term we can carry out any needed repairs and overhauls on the equipment. With modernisations we can develop an equipment-specific plan to improve performance in various different ways, while with automation and digitalisation we can implement the latest technologies for individual pieces of equipment or even the entire terminal," Arttu says.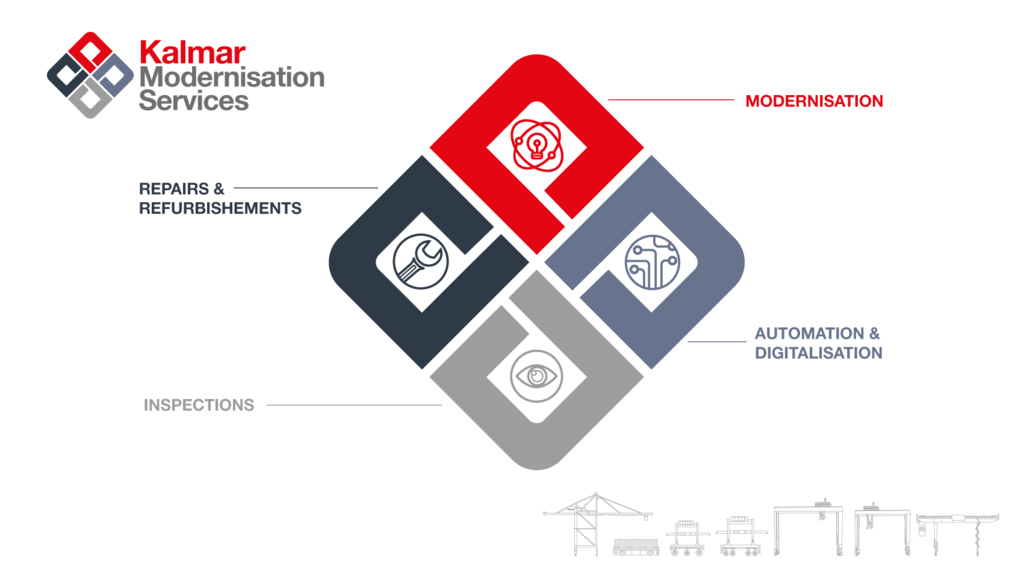 Know where you stand with thorough equipment inspections
Kalmar's inspection capabilities span a range of visual, structural and functional inspections to determine the condition of a piece of equipment. "In the best-case scenario, inspections can have a positive impact on the customer's maintenance strategy and schedule, and link these elements to our digitalisation services," says Arttu.
Inspections are based on equipment-specific checklists, and the outcome is a clear, comprehensive picture of the real condition of the equipment and the proposed next steps. "These kinds of inspections can also be a very valuable tool for assessing and documenting damage due to an incident or accident, for example for insurance purposes, and for providing a good understanding of the equipment's current state in order to develop a tailored service contract package," Arttu says.
Extend the life of your fleet with repairs and refurbishments
Repair and refurbishment services are available to extend the life of both Kalmar and third-party equipment. These services can cover items such as engines, drives, gearboxes and bearings to batteries and more.
"We can step in to support the customer with more complex projects that might be beyond the capabilities of their own maintenance teams, for example when dealing with damage caused by an incident such as a collision," says Arttu. "For a yard crane for example, we can perform all the necessary structural analyses, trolley and/or gantry alignment and commissioning tests to get the crane back up and running in perfect working order."
Other services include cabin replacement, engine replacement, rail grinding and power-unit overhauls. "For third-party equipment we have extensive experience with STS trolley rail repair and replacement, mobile crane bearing replacement and crane decommissioning," Arttu explains.
Upgrade your fleet with modernisations
Even the best equipment needs a helping hand after years of loyal service. Technology advances quickly today, meaning what was state-of-the-art a few years ago could become obsolete in the future. Safety and sustainability requirements become stricter over time, and your terminal's operational needs may be far removed from what they were when your equipment arrived on site.
Kalmar's modernisation offering covers power unit retrofits and electrification, control and drive system upgrades, and large-scale crane upgrades for Kalmar and non-Kalmar equipment. These upgrades and retrofits for equipment and subsystems can help you meet changing operational needs and regulations.
"As a general rule, we can retrofit existing Kalmar equipment with almost any option that is available for our new equipment offering," Arttu says. "Using our knowledge and expertise we can provide the customer with a clear picture of the measurable benefit of each and every upgrade."
"As a general rule, we can retrofit existing Kalmar equipment with almost any option that is available for our new equipment offering"
Future-proof your operations with automation and digitalisation
Kalmar's automation and digitalisation offering provides opportunities for brownfield terminals to start their automation journey with a phased, stepwise approach and to optimise terminal processes.
"Digitalisation can give you access to equipment data to monitor and optimise your fleet and prepare for an automated future, for example by retrofitting Kalmar Insight – a performance management tool that turns equipment data into actionable, impactful insights," explains Arttu. "We also offer Kalmar SmartPort solutions to enable features such as automated container inventory management, and can deliver brownfield automation retrofits for
phased automated operations. The key to all these services is using data to build a full picture of where the terminal and equipment fleet is now, where the customer wants it to be, and what solutions and services we can provide to help them achieve their targets.
All your modernisation needs from a single partner
By partnering with Kalmar, customers can expect lower total cost of ownership and equipment that not only lasts longer but experiences less downtime.
"Predictable availability and reliable operation are critical for our customers, and our modernisation services can help them to achieve this while also bringing their equipment in line with the latest codes and standards," Arttu says. "We have decades of experience of successfully delivering large and complex projects on Kalmar and third-party equipment, and our global network of service experts means we are always close to the customer wherever they may be located," Arttu concludes.