6 April 2022
Reading time 5 minutes
Safe by design – how operational hazard analysis leaves no stone unturned
Modern container ports and terminals are buzzing hives of activity where people interact with manual and, increasingly, automated machinery as part of their everyday work. Every terminal has its own unique set of risks to address, hazards to analyse and challenges to overcome – and a thorough operational hazard analysis (OHA) is the blueprint that helps to ensure safety remains the number one priority.
At Kalmar, instead of being treated as a separate function we consider safety as a core part of every single system we design and deliver. Right from day one, safety is treated as a part of normal working processes because in that way, it can be integrated so that it enhances rather than hinders normal operations. We call this smart safety, and it has been developed in close cooperation with customers all across the world for a wide variety of different products and machines.
Operational safety is a many-headed beast that brings challenges relating to everything from legislation and operational and customer needs to, of course, human behaviour. "An OHA provides a structured, collaborative way to work with customers to identify these challenges and specify solutions," says Oskari Tähtinen, Product Manager at Kalmar.
There are several different safety standards that can apply to container-handling equipment, including basic standards that describe how to design, apply and maintain automatic safety systems, and more specific standards focused on the safety-related elements of control systems.
A collaborative approach pays dividends
The first step is to define the scope of this analysis – what kind of machine or system we are talking about, where it will be operating and how people will interface with it. Only then can the process of analysing and evaluating risk begin.
"For anything that is deemed to be high risk, we need to consider how to address the risk with mitigation before the system is considered to be safe and ready for delivery to the customer," Oskari explains. "This is where our collaborative approach pays dividends. Customer feedback is critical to this process because it not only helps us to ensure we take each customer's unique requirements into account, it also helps us to constantly improve the safety of the systems we design and deliver."
OHA is not only a cornerstone of each individual customer delivery project, but also of Kalmar's product development process. "OHA forms a core part of the development process for all our products and systems, so during the delivery phase we can be confident that we already have all the key safety functionalities in place and there's no need for complicated customisation."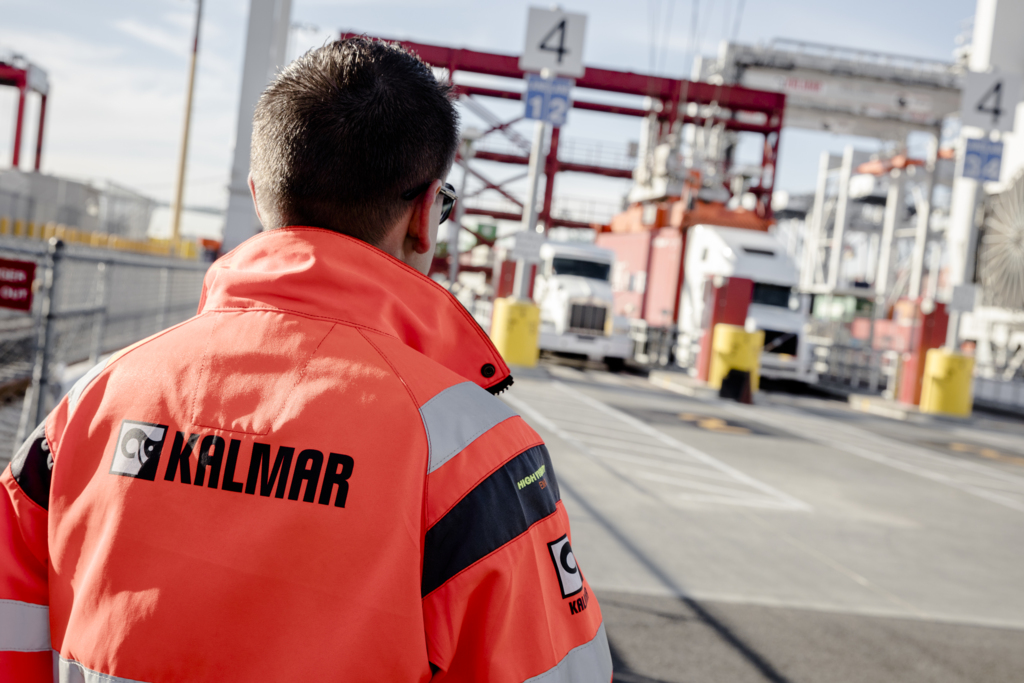 Expert help brings peace of mind – and reduces effort for the customer
The outcome of an OHA is an extensive risk assessment document covering all the areas where Kalmar machines and systems operate, focusing on operational and maintenance safety. "Typically, customers are quite knowledgeable about the local regulations they need to follow, but they might not know a great deal about equipment-specific safety standards," Oskari says.
"As experts, it's our job to analyse how the local requirements apply to what we are delivering and ensure that everything is compliant and fit-for-purpose. This brings peace of mind for customers because they know they can trust us to ensure the best possible end result for their operations."
Oskari says that as a tool, OHA is an important part of helping to improve the way Kalmar serves its customers by taking on some of the tasks that they would otherwise be responsible for. "As employers, terminal operators are responsible for creating a safe working environment for their employees. As part of an OHA we analyse the work tasks done by the terminal employees using our equipment and systems in order to identify risks and implement safety measures to mitigate them, so in this way we lighten the load for customers."
Innovations to support safer terminal operations

Kalmar has a long history as a safety innovator, especially in the context of automated equipment and systems. One concrete example is its safety-rated geofencing system, which means physical fencing is no longer needed to segregate interchange areas shared by terminal staff and automated equipment. Using geofencing also reduces the size of safety buffer zones, saving valuable yard space and making it easy to adapt the system according to each individual customer's operational use case.
A second example is the lockout/tagout procedure, which protects maintenance technicians who are working on equipment by preventing it from being accidentally powered up. The system uses an arrangement of physical locks and tags to make it clear when specific components or systems are off limits for maintenance. This kind of system is an occupational health and safety requirement in many regions, and Kalmar provides comprehensive instructions on the procedure as part of its training programmes for customer maintenance teams.
Thorough training a key element of our smart safety concept
It is hard to overemphasise the importance of well-planned and delivered training in terms of ensuring safe terminal operations. As part of every automation project delivery, Kalmar's training team provides safety training for selected customer contacts that covers all the factors identified in the OHA as well as any other safety-related matters. Following a 'train the trainer' approach, these personnel can then go on to train their colleagues prior to and during a deployment.
Oskari explains what this training entails: "We begin planning the training programme far in advance of a deployment so that the customer can hit the ground running from day one, safe in the knowledge that their people have the skills they need to work safely."
Training covers every aspect of how to use and maintain systems and equipment safely. "The OHA has an important role to play here because it sets out the agenda for discussions with the training team on what topics to cover. Training programmes can cover everything from safe driving practices to safe practices for accessing areas where automated equipment is operating," Oskari continues.
"We can never say that something is 100% safe, especially where people and machines are interacting closely with each other. But by following established standards, thoroughly analysing every single aspect of a project delivery from a safety point of view and providing high-quality training, we can go a long way towards making sure that what we hand over to the customer is fit for purpose and safe to use, and that they know how to operate it safely," Oskari concludes.